Food charity FareShare is in the process of building Australia's largest charity kitchen in Brisbane.  The facility is being delivered by Wiley who have partnered with FareShare and provided their services at cost.
In October 2018, Fareshare will open the state of the art, production kitchen  in Morningside, Brisbane, with the aim to cook 1.25 million meals in the first year of operation. Wiley have been onsite with FareShare since the end of May and have been working closely with the charity since late last year. The kitchen is being designed and built by Wiley at cost with the capacity to cook five million meals a year.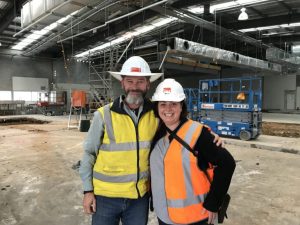 Wiley Site Manager, Brendan Dickson and Fareshare's QLD General Manager, Kellie Watson on site at the new facility.
FareShare rescues food that would otherwise go to waste and cooks it into free, nutritious meals for people in crisis. Their vision is for a society where food is not wasted and no one goes hungry.
Wiley Managing Director, Tom said "We love working with Kellie and the team at FareShare as their mission and vision aligns so closely to our values, in particular our sense of community. FareShare partner with Food Bank who we also support, so it made sense to do what we could to help FareShare get on their feet and feeding our community as soon and they could. I'm looking forward to getting my hands dirty in the kitchen come October!"
FareShare is duplicating its unique capability to cook rescued food at scale from Melbourne to Queensland where surplus food is available and community need is acute.
Wiley's Project Manager, Lauren Ellis said "We are really excited to have partnered with FareShare to deliver this kitchen which will feed Brisbane's hungry and be Australia's largest charity kitchen. We have been involved right from the start, assisting with site selection and sourcing suppliers who would best work with the charity. Many of our suppliers have also chipped in offering their services at a greatly discounted rate and we are very grateful for their support. It's a lot of fun onsite too, we are really enjoying working with the local FareShare team."
Wiley also hosted Kellie Watson, FareShare's QLD General Manager in their Brisbane head office for the months leading up to the start of the project. "It's been great partnering with a company like Wiley which has so much experience in the food sector. As well as providing their services at cost, Wiley has also brought trades on board with many contributing at cost or with great discounts. As a charity, it's been critical to keep costs down so this has been a huge help.
"I've really enjoyed Wiley's flexible and responsive approach. They even let me share their office space!" Said Kellie.
The kitchen will be powered by local volunteers and supplied with quality ingredients by Foodbank Queensland who will also distribute the nutritious cooked meals through its existing network of charities.
FareShare is now welcoming registrations from would-be volunteers. You can sign up to volunteer here. The Wiley team are looking forward to getting in the kitchen themselves and lending a hand of a different kind once the project is complete.