Foodbank, Australia's largest hunger relief organisation, has built a giant sculpture of the Sydney Harbour Bridge made from food donated by 22 of the organisation's food and grocery industry partners.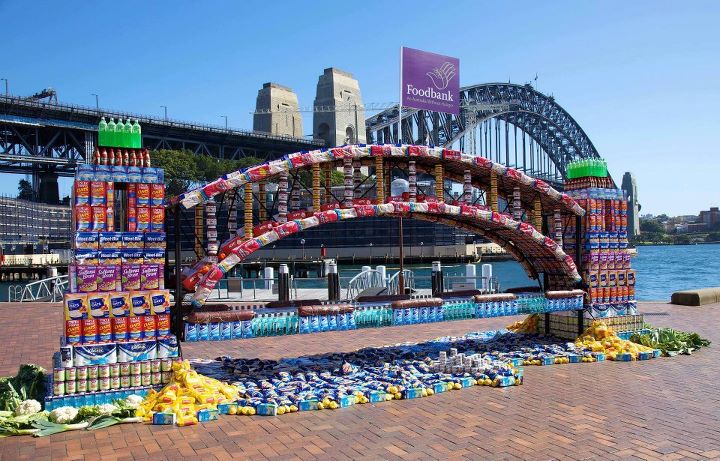 Photo: Courtesy of
Foodbank Australia
This piece of modern, edible art is a statement of Foodbank's mission to raise awareness about Australia's growing poverty issues and secure donations in a bid to take giant steps towards doubling their food supply by the year 2015.
Built in the shadow of the real Sydney Harbour Bridge on UN World Food Day, Sunday 16 October, further reminds us that this is so much more than an eye-catching spectacle. Within the fabric of this colourful structure lie the sobering facts of the daily reality for many Australians—2.2 million Australians don't have enough money to take care of basic needs such as housing, clothing and food and the ever-growing 11% of Australian adults and 12% of children who live in poverty.
Wiley is a proud and committed corporate sponsor of Foodbank and have been eagerly awaiting this event since hearing about the concept back in May from Foodbank CEO, John Webster. We firmly believe we can help turn around the issue of hunger in Australia and urge everyone to get involved—this is real change and it affects everyone.
How are Wiley helping?
As leaders in the food industry, Wiley are a relevant and trusted advisor of Foodbank and give our services—in particular engineering—to assist with logistics and storage of donated food. We provide our office as a venue and host Foodbank meetings and presentations. We advertise Foodbank in our promotions to the food industry and we keep all the staff current on the latest happenings and encourage them to volunteer. All money raised by staff at events is donated directly to Foodbank – and is matched dollar for dollar by Wiley. We even auctioned some furniture recently and donated the takings.
At Wiley, we value a sense of community, with an eye to making a difference where we can.
The public is being asked to come down to The Rocks with food donations of their own to add their support to the awareness-raising event. You can also help Foodbank online by making a cash donation to the value of one or more of the items listed on their Bridge the Hunger Divide webpage or help raise awareness by liking and getting involved on their Facebook page.